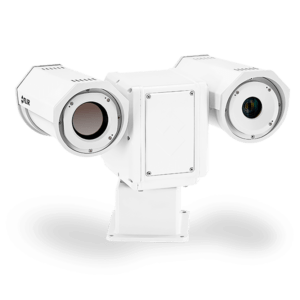 The FLIR Triton™ PT-602CZ uses a cooled midwave infrared detector with 640 x 480 resolution to create extremely detailed thermal images at long ranges and in extreme conditions. Equipped with powerful optics that combine excellent situational awareness with continuous zoom capability, the Triton PT-602CZ is a flexible imaging solution for the most demanding applications.
The Cooled, Midwave Infrared Detector with Continuous Zoom
Improved threat detection
The Triton PT-602CZ provides long-range threat detection and alarm assessment, with continuous auto zoom capabilities to keep targets in site.
Precision pan/tilt
The camera is ready for radar integration and slew-to-cue operation. Wider fields of view improves coverage without compromising range performance.
Easy integration
The ONVIF-compliant camera uses open IP standards for plug-and-play integration into IP networks or analog video environments.
Specifications
Overview
Array Format (NTSC)
640 x 512
Detector Type
Cooled Focal Plane Array
Dimensions (L x W x H)
13.8″ x 19.5″ x 13.1″ (352 mm x 495 mm x 333 mm)
Effective Resolution
327,680
Spectral Range
3 µm to 5 µm
Weight
~40.8 lb
Connections & Communications
Composite Video
NTSC or PAL
Interface
TCP/IP RS-422 RS-232 Pelco D Bosch
Video Over Ethernet
Two independent channels of streaming MPEG-4, H.264, or M-JPEG for each of two cameras
Daylight Imaging
Focal Length – Daylight
3.4 mm to 122.4 mm
Imaging & Optical
Digital Zoom
Continuously adjustable
Effective Pixels
NTSC, visible light camera – 380,000
Focus
Athermalized; Focus-free at infinity
Image Processing
Automatic Gain Control (AGC) Digital Detail Enhancement (DDE)
Optical Zoom
Continuous
Visible Camera
Sony FCB-EX1010
Measurement & Analysis
Programmable Presets
128
Power
Input Voltage
24 VAC (20-30 VAC) 24 VDC (21-30 VDC)
Power Consumption
24 VAC: 70 VA (max w/o heaters); 260 VA (max w/heaters) 24 VDC: 60 W (max w/o heaters); 230 W (max w/heaters)
PTZ
Pan Angle/Speed
Continuous 360°; 0.1° to 60°/sec
Tilt Angle – Speed
+90° to -90°; 0.1° to 30°/sec
Thermal Imaging
Field of View Limits
28° x 21° WFOV 2° x 1.5° NFOV
Export Restrictions
The information contained in this page pertains to a dual use product controlled for export by the Export Administration Regulations (EAR). Diversion contrary to US law is prohibited. US Department of Commerce authorization is not required prior to export or transfer to foreign persons or parties unless otherwise prohibited.