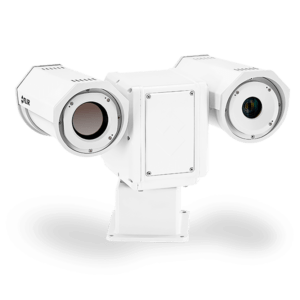 The FLIR Triton™ PT-Series HD is our most advanced dual-sensor security system, combining a cooled or uncooled 640 × 480 resolution thermal sensor, a 1080p HD visible-light imaging sensor, and a high speed, precision pan/tilt system. The Triton PT-Series HD integrates easily with FLIR United VMS 8.0, as well as other major third party video management systems, making it an extremely versatile solution for critical infrastructure protection in total darkness, bright sun, and adverse conditions.
Protect Perimeters Anytime, Anywhere
Superior Image Quality
The Triton PT-Series HD's thermal camera offers up to a 14x continuous zoom, while the low light HD camera has a 30x optical zoom.
Rugged Housing
The weather-resistant housing includes deicing and de-fogging capabilities, plus a changeable thermal payload cassette that significantly reduces maintenance time.
Designed for System Integration
When controlled using FLIR United VMS, enhanced capabilities are enabled, including automated PTZ tracking and fixed camera-target hand off.
Specifications
Overview
Detector Type
Long-Life, Uncooled VOx Microbolometer
Dimensions (L x W x H)
13.7″, 18.4″, 12.8″ (348mm, 467mm, 326 mm)
Focal Length
4.3 mm (wide) to 129.0 mm (tele)
Sensitivity
<35mK @ 25c F# 1.0
Thermal Frame Rate
NTSC: 30 Hz PAL: 25 Hz / 8.3 Hz
Weight
36 lbs. (16.4 kg)
Zoom
30X optical zoom with autofocus and 12X digital zoom
Thermal Array Format
640 × 480
Thermal E-Zoom
Continuous E-Zoom to 4×
Thermal Effective Resolution
307200.0
Thermal Focus Range
Athermalized, Focus-Free
Thermal Pixel Pitch
17 µm
Thermal Spectral Range
7.5 µm to 13.5 µm
Connections & Communications
Composite Video NTSC or PAL
Yes: Hybrid IP & Analog
Ethernet
Yes
External Analytics Compatible
Yes
Network APIs
FLIR SDK FLIR CGI ONVIF Profile S
Serial Control Interfaces
RS-232/-422; Pelco D, Bosch
Supported Protocols
IPV4, HTTP, UPnP, DNS, NTP, RTSP, RTCP, RTP, TCP, UDP, ICMP, IGMP, DHCP, ARP, SCP
Environmental
De-Icing/Anti-Icing
MIL-STD-810F, Method 521.1; – De-Icing
Humidity
0-95% relative
IP Rating (dust & water ingress)
IP66
Operating Temperature Range
-40°C to 70°C cold start
Shock
MIL-STD-810F «Transportation»
Storage Temperature Range
-55°C to 85°C
Vibration
IEC 60068-2-27
Imaging & Optical
Array format
640 × 480
f-number
F1.6 to F4.7
Field of view (FOV)
8.6°×6.6°
Lens Field of View
63.7° (wide end) to 2.3° (tele end)
Low Light Sensitivity
Color: 0.01 lx (F1.6, AGC on, 1/30s)
Noise Reduction
Yes (6 steps)
Sensor Illumination
Back Light Compensation
Sensor Type
Full HD 1080p 1/2.8-type Exmor R CMOS
WDR
120db
Thermal Image Settings
Auto AGC, Dynamic Detail Enhancement (DDE), Sensitivity
Measurement & Analysis
Programmable Presets
256.0
Power
Input Voltage
24 VDC (21-30 VDC) 24 VAC (21-30 VAC)
Power Consumption
24 VAC: 85 VA (max w/o heaters) 215 VA (max w/heaters) 24 VDC: 65 W (max w/o heaters) 195 W (max w/heaters)
PTZ
Pan Angle/Speed
Continuous 360°; 0.1° to 60°/sec
Tilt Angle – Speed
+90° to -90°; 0.1° to 30°/sec
Thermal Imaging
Focal Length – Thermal
26-105 mm
Video & Recording
Video Compression
Thermal: Two independent channels of H.264 & M-JPEG Visible: Two independent channels of H.264 & M-JPEG
Video Image Uniformity Optimization
Automatic Flat Field Correction (FFC) – Thermal and Temporal Triggers
Video Streaming Resolution
Thermal: QVGA to VGA Visible: VGA to HD
Video Thermal AGC Modes
Linear AGC, Histogram AGC, Dynamic Detail Enhancement (DDE), Sensitivity
Video Thermal AGC Region of Interest [ROI]
Default, Presets and User definable to insure optimal image quality on subjects of interest
Export Restrictions
The information contained in this page pertains to a dual use product controlled for export by the Export Administration Regulations (EAR). Diversion contrary to US law is prohibited. US Department of Commerce authorization is not required prior to export or transfer to foreign persons or parties unless otherwise prohibited.